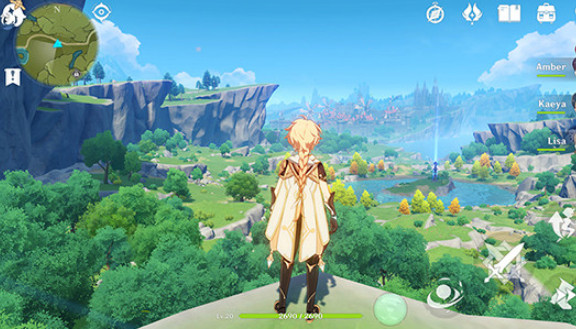 System Requirements Genshin Impact Android And PC Download For Mobile And Computer. We will get to know the portable devices that you can run the Genshin Impact for Android and computer and what are well-supported and deserted chipsets to perfectly run the game without any lag that could affect playing.
Genshin Impact is a free roles game, developed and published by miHoYo, the game features a legendary open world environment and work based on battle system using racial magic and switching characters, and uses GACHA to achieve in game-income and other things .
The game is only (Online) and features a limited multi-player mode that allows up to four players to play together, and it was released for ( Microsoft Windows, PlayStation 4, Android and IOS ) on September 28, 2020.
Genshin Impact is also set to launch on Nintendo Switch and PlayStation 5.
Besides, PlayStation 5 compatibility has been added with Playstation 4 on November 11, 2020.
Download the game Genshin Impact for PC from the Genshin Impact official website.
Genshin Impact for Android from Genshin Impact Google Play.
Download Genshin Impact for iPhone and iPad from the Genshin Impact App Store.
The Genshin Impact storyline:
In the fictional world of Teyvat, which includes seven distinct countries, each of which is linked by an element and ruled by a leader associated with it, the story follows the twins and is referred to as (The travelers), they traveled through many worlds with their twins but became separated from them by an unknown person in Teyvat.
The travelers travels through Teyvat in search of the lost sister with their companion Paimon and becomes involved in the affairs of other nations and the world.
The game received an overall positive acceptance, with critics praising the combat freeplay and an open-world option, while some criticized for its lack of end-game content; The game made more than $ 393 million on mobile devices within two months.
System Requirements Genshin Impact minimum Android:
Operating system: Android 7.0 and above.
Supported processor: Arm v8a 64 bit.
RAM Random RAM: 3 GB.
Mobile space free: 8 GB.
Genshin Impact system requirements for Android Recommended limit:
Operating system: Android 9 and later
CPU: Qualcomm Snapdragon 845, Kirin 810.
Processor speed: 2.8 GHz Snapdragon |  2.27GHz Kirin.
Memory cache: 4 GB RAM.
Free space in mobile: 8 GB.
Genshin Impact Minimum:
Operating System: Windows 7 SP1 64 Bit |  Windows 8.1 64 bit or Windows 10 64 bit.
Processor: Intel Core i5 AMD Ryzen 5.
Processor Speed: 2 GHz and above.
RAM: 8 GB.
Graphics: NVIDIA GeForce GT 1030.
Screen Card Memory: 2 GB.
DirectX Version: 11.
Free storage in computer: 30 GB.
Genshin Impact PC Game Requirements Recommended Limit:
Operating system – Windows 7 SP1 64-bit, 8.1 64-bit, or 10 64-bit.
CPU: Intel Core i7 AMD Ryzen 7.
Processor speed: 3 GHz and above.
Memory RAM: 16 GB.
Graphics: NVIDIA GeForce GTX 1060.
Screen Card Memory: 6 GB.
DirectX Version: 11.
Free storage in the computer: 30 GB.