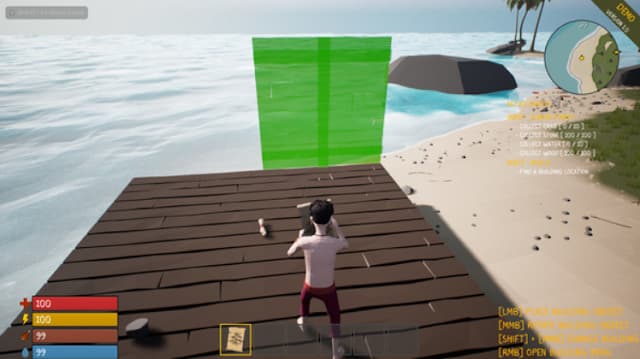 Pirate King Ultimate System Requirements The game does not require great requirements, as it is considered the type that will work on most of the available devices. The game was designed and developed by the Arab designer Mohamed Chouerib from Al-Jazaery. The game was released on June 8, 2021 on Steam, the pirate king, and it is priced at $6.99 in both Arabic and English, and there is a demo version Free Pirate King Simulator.
Single player online play LAN LAN, Shared screen / Hand control support.
Imagine that you wake up in the sea world, and you must become a pirate, so if you want to survive, you must collect all the materials needed to build your ship to travel the world and return to the real world, by finding the lost treasure.
Key Features of The Pirate King:
Gathering Resources: Gathering resources to help you advance in the game, roam the open areas of the Pirate King in search of rocks, wood, ore and sand.
Tool Crafting: Collect all the resources you can collect, you need to craft items, tools and weapons to help you survive in the tough world full of pirates.
Build: The outside place is very dangerous, you need to build your house in order to keep the resources and live in it safe from the dangerous monsters that live outside.
Artificial intelligence system: The game contains animals and monsters.
Game mode: Single player (Story mode).
Property: There are many weapons and equipment you can buy.
Game Play System: Survival / Third Person Perspective / Medium difficulty.
Task system: There are three running tasks.
Islands maps: 3 islands.
Pirate King Ultimate System Requirements minimum:
Operating System: Windows 7 / 8 / 8.1 / 10 64-bit only.
Processor: Single or dual core processor such as Intel Core2 Duo or higher.
RAM RAM: 4 GB.
Graphics: An internal GPU with OpenGL.
DirectX: 9.
Network: A broadband Internet connection.
Free space on the computer: 1 GB.
Pirate King System Requirements recommended :
Operating System: Windows 7 / 8 / 8.1 / 10 64-bit only.
Processor: Dual Core i3 7G and better.
Random access memory: 8 GB.
Graphics Card: A graphics processor that supports DirectX 9/OpenGL.
Internet: A broadband Internet connection.
Storage: 1 GB.