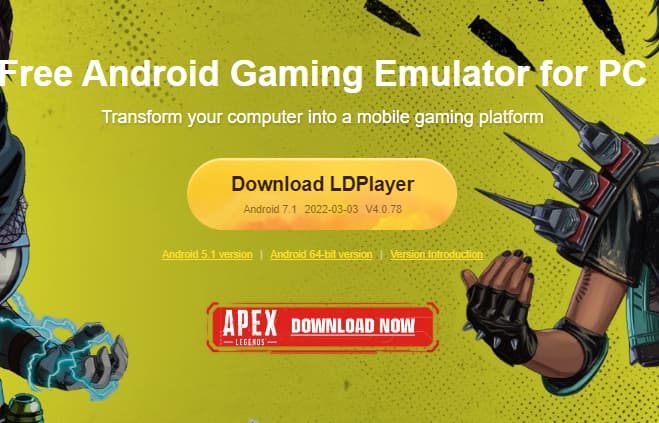 Android Emulator for PC You can get away with a lot of Android Emulator for PC. but you may find some of them are not suitable for the device specifications. So you have to choose an emulator that is suitable for you and does not tire the computer. I will tell you an emulator that you might like amazingly as it supports many popular games and supports the market of apps and games.
LDPlayer is a game-focused application that will enhance your Android gaming experience whether you have an Intel or AMD processor. Customizable controls, mouse and keyboard gameplay. Open multiple games at the same time. Macros and scripts help you recycle faster in Gacha games, streamline your games and have higher frame rate graphics.
Download an Android emulator LDPlayer is the best Android emulator for PC and there is a special version for games that support 64 bits. The emulator works on an Android emulator for Windows 7, 8 and 10. suitable for weak devices and is considered one of the lightest Android emulators for PC with a size of only 460 MB.
For me, playing mobile games on LDPayer was an enjoyable gaming experience. The HD graphics at 60 frames per second give the impression that you are playing a PC game. but it is actually a mobile game that runs on your PC. In addition, the entire Android Emulator user experience is designed to make things easier and more fun.
Download Android Emulator
Download LD gamepad emulation from the official website More than 270 million downloads. more than 4 million people are available on the emulator. More than a million games supported by the emulator supports 19 languages ​​including Arabic, there are nearly 200 countries from which you can use it.
The whole point of using a tool like this is to be able to play mobile video games on desktop computers by assigning the controls to a keyboard and mouse. Although you can also use an external gamepad with titles that support it.
This program is capable of much more than that. In many cases, it is possible to boost game frames and resolutions to levels that are practically difficult to achieve on most Android devices. In fact, if your graphics hardware supports it, PUBG Mobile can be played in 2K resolution. On the other hand, other games allow for "modifications" to improve specific aesthetic characteristics. In games like Free Fire, you can even hit 90 frames per second.
LDPlayer emulator has automatic and multi-instance management options for the most demanding users, allowing them to run multiple emulated devices at the same time. This means that you can play a game on one computer while using three premium accounts. You can also create macros that repeat a series of actions and clicks on the screen if a game asks you to perform a repetitive activity. this is common in MMO games.