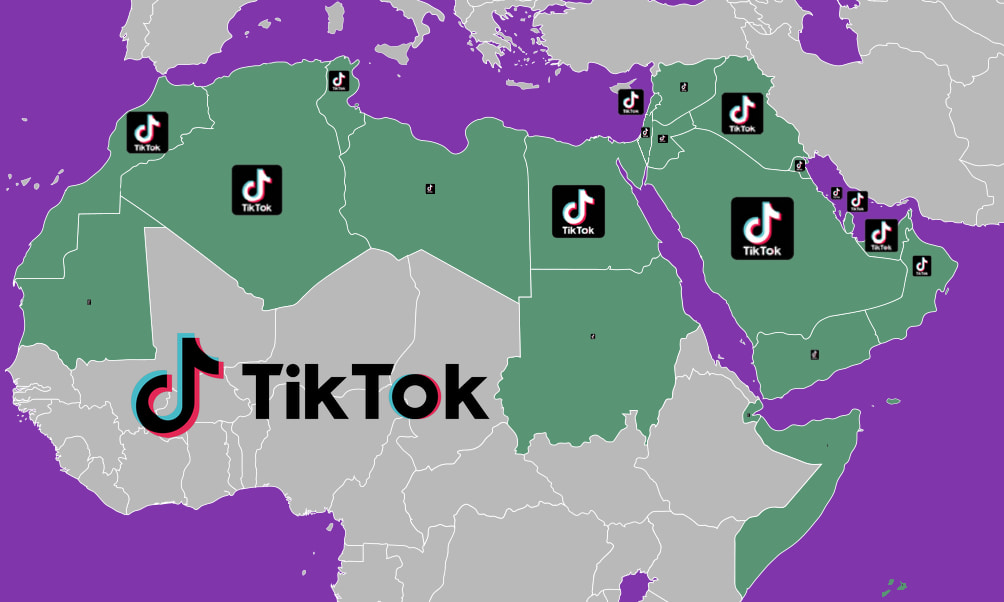 The number of TikTok users in the Arab world has skyrocketed over the past few years. While official data on the exact number of users in each country may not be available, we can use a variety of sources to estimate the approximate number of TikTok users in each Arab country.
You will find the most Arab countries using Tik Tok, in order for 22 Arab countries, and I have a total number of all countries, which is 95,299,000. These numbers are estimates and may vary depending on the source and the specific methodology used to collect the data. In addition, the number of TikTok users in each country can change rapidly over time, as social media usage rates are constantly evolving and increasing.
According to Statista, as of January 2023, TikTok had approximately 27.2 million users in Saudi Arabia, making it the country with the largest number of TikTok users in the Arab world. Other countries with large numbers of TikTok users are Egypt, Algeria, Morocco, United Arab Emirates, Iraq, Lebanon, Qatar, and Tunisia, each with millions of users as well. These countries are the most experienced in using social media in the region.
It is worth noting that the number of TikTok users in the Arab world is constantly increasing, and the platform has become increasingly popular among young people in recent years. Therefore, the total number of TikTok users in the Arab world is likely to be higher than what is currently being reported.
Here's a breakdown of the estimated number of TikTok users in each of the 22 Arab countries as of January 2023, according to Statista and other sources:
Here is a breakdown of the number of TikTok users in each country in the Arab world:
Number of Tik Tok users in Saudi Arabia: 27.2 million
Egypt: 26.8 million
Algeria: 8 million
Morocco: 7.5 million
UAE: 7.4 million
Iraq: 4.3 million
Lebanon: 4 million
Qatar: 2.5 million
Tunisia: 2.2 million
Oman: 1.6 million
Bahrain: 900,000
Kuwait: 800,000
Jordan: 650,000
Palestine: 500,000
Libya: 450,000
Syria: 220,000
Yemen: 150,000
Sudan: 100,000
Mauritania: 20,000
Djibouti: 5,000
Somalia: 3,000
Comoros: 1,000
Residences may be large in some areas and few in others. This indicates that some countries are present in them, or there is no good internet. Just as there are indigenous people from other countries such as Yemen, Syria, Sudan and others, they are present in large numbers in Saudi Arabia, Egypt and the Emirates. Therefore, do not think that there is a large number indicating that they are all indigenous.
There are a large number of foreigners who do not belong to the same country and watch content that is not related or unrelated in your country and region, and they may hardly speak English, Hindi or Urdu. Therefore, they do not do anything big for the Arabic content, but its percentage in the Arab world will be approximately 10 percent.
In the end, this is the information that will astound you. Did you know that in 2018, the number of Arabs on the TikTok application did not exceed one million.