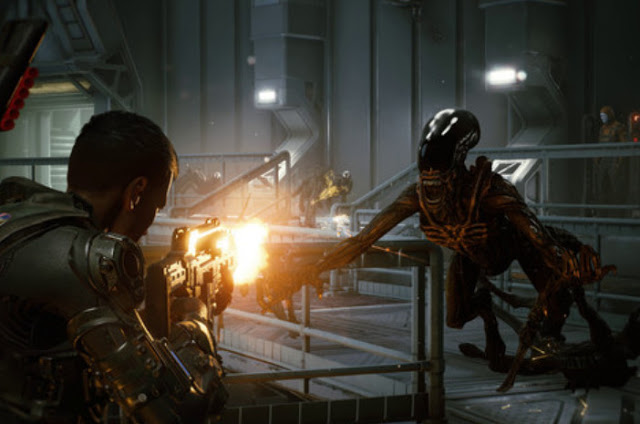 aliens fireteam elite system requirements is a third-person survival game set in the famous Aliens universe. who falls into a fateful battle with creatures such as Xenomorph or Facehuggers. Twenty types of enemies that pose a threat to the world you will have to confront you and your team.
In the game Aliens: Fireteam Elite the team will consist of AI friends or real friends with only two players accompanying you online. You can make it public or private and here you will try to access four stories. Each story has three stages and five levels from easy to difficult.
You will also be able to choose from a wide range of weapons with over 30 items, 70 mods. and various gear to fight against enemies.
You can choose from among the five characters: Defender – Destroyer – Technical Specialist – Doc – Explorer. each one has its own skills and equipment different from the rest, and this is what makes them different from each other
It is a sequel to the previous three series that will be the fourth release of the movement. The game is available on Windows 10, PlayStation 5 – 4, Xbox One and Series X platforms.
Below are the specifications. Aliens fireteam elite system requirements are parts that will run the game without problems for the computer
aliens fireteam elite system requirements minimum:
Operating System: Windows 10
CPU: AMD Athlon X4950 / Intel i5-2500K
Processor Speed: Intel 3.70 GHz | AMD 3.5GHz
RAM RAM: 8 GB RAM
Graphics Card: AMD R9285 | Nvidia GTX 760
Graphics Card Memory: 4GB
DirectX: Version 11
Sound Card: Integrated or dedicated Direct X 11 compatible sound card
Free computer space: 30 GB
Network: broadband internet connection
Additional Notes: Minimum Graphics Settings, Screen Resolution 1920 x 1080, Average 30fps
Requirements recommended:
Operating System: Windows 10
CPU: AMD Ryzen 5 1600AF / Intel i5-7400
Processor Speed: Intel 3.50GHz | AMD 3.2GHz
RAM RAM: 16 GB
GPU: AMD R9285 | Nvidia GTX 760
GPU Memory: 6 Nvidia | AMD 8
DirectX: Version 11
Sound Card: Integrated or dedicated Direct X 11 compatible sound card
Free space on the computer: 30 GB
Network: broadband internet connection
Additional Notes: Minimum Graphics Settings, Screen Resolution 1920 x 1080, Average 30fps